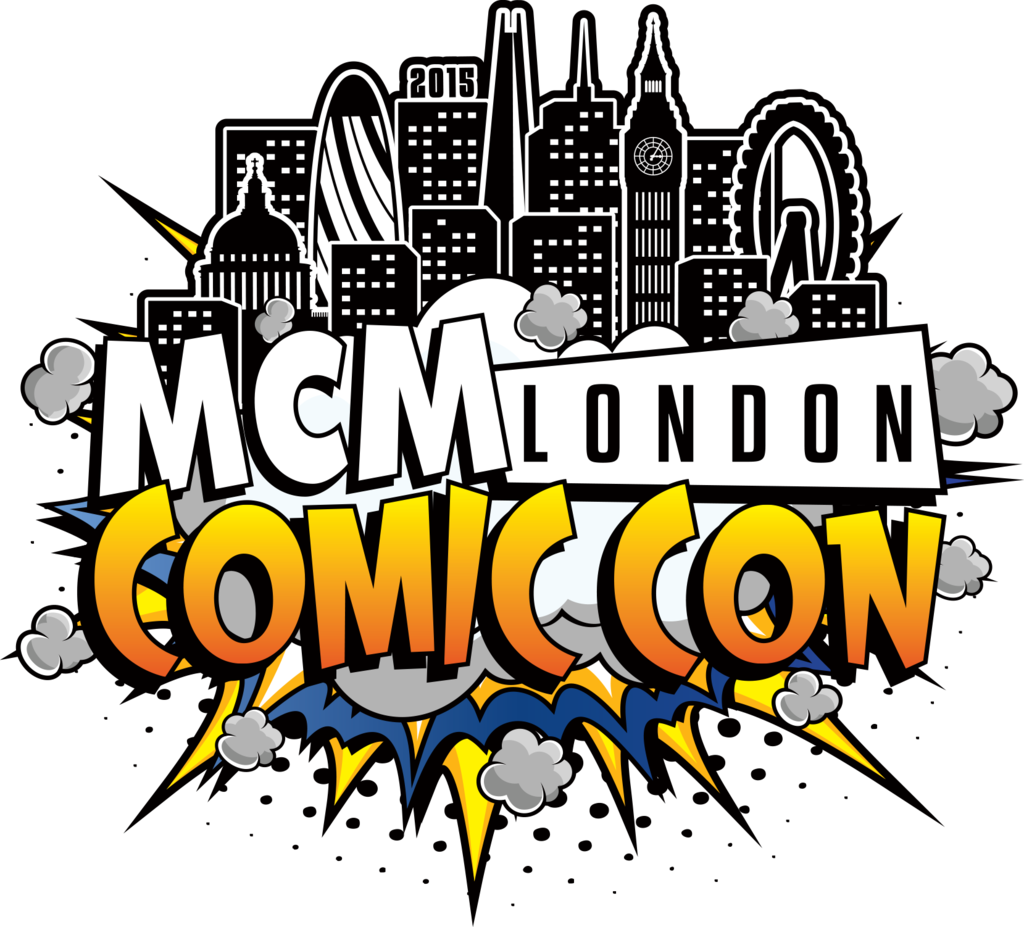 On the 23rd to the 25th of October 2015, Geek Mash writers Brad, Casey, Jason, Kayleigh, Neil and Ross took a trip to London's Excel Centre to check out MCM's London Comic Con.
Plus we are pleased to be joined by guests Jack Powis, and Sarah Cassidy of The Strolling Unwell
The three day show saw 130,560 pass through the doors of Excel London, eclipsing the record-breaking 122,600 attendees at May's MCM London Comic Con and the 110,200 at last October's event.
Essentially this cements MCM London Comic Con's position as the third largest Comic Con on the planet — just behind illustrious US rivals in New York and San Diego. To add some UK context it's also around 10,000 more people than attended both the Man United v Man City and Sunderland vs Newcastle matches this weekend — two of premier league football's biggest derby matches.
Brad, Ross, Kayleigh, Jason, Casey and Neil waiting to go in!
Visitors to MCM London Comic Con enjoyed a whole host of sci-fi, film, television, comic book, videogame, anime, manga and cosplay content. Featured panels and Q&As included Steven Moffat and Mark Gatiss on
Sherlock
and
Doctor Who
; Alan Tudyk and Nolan North on new comedy
Con
Man
; Noah Wyle on
Librarians
; Charlie Higson on
Jekyll and Hyde
; and Gareth Evans on his acclaimed martial arts movie
The Raid
.
Comic Con also hosted panels by cast and crew from zombie phenomenon
The Walking Dead
, hit sci-fi series
Humans
, historical fantasy
Da Vinci's Demons
, re-imagined classic
Thunderbirds Are Go
, Dark Age epic
Beowulf: Return to the Shieldlands
; upcoming horror drama
Outcast
and CBBC sci-fi show
Eve
, not to mention screenings of Amazon Original's
The Man in the High Castle
and
Mr. Robot
.
Other special guests meeting fans at the show included
Arrow
's Cynthia Addai-Robinson;
The Flash
's Candice Patton;
Breaking Bad
's RJ Mitte;
Game of Thrones
'
Ian McElhinney, Ian Beattie and Eugene Simon;
Continuum
's Victor Webster;
Warehouse 13
's Saul Rubinek;
Under The Dome
's Alexander Koch and Colin Ford;
Doctor Who
's Colin Baker and Sylvester McCoy;
Red Dwarf
's
Robert Llewellyn and Danny John-Jules
;
Adventure Time's
Jessica DiCicco and Anime Guest of Honour Shigeto Koyama (
Big Hero 6
,
Kill la Kill
).
Meanwhile, the Comic Village was home to more than 200 talented comic book artists and writers including Bob Layton, John McCrea and Tony Lee; Vidfest's gathering of online video talent featured The Yogscast, Rooster Teeth and The Hillywood Show amongst many others; and the games zone played host to publishers such as Ubisoft, Bandai Namco, Koei Tecmo, NisA Europe and Rising Star Games, as well the MCM eSports Arena.
So let's chat geeky about the convention, favourite moments and our favourite Cosplay!
What were you most looking forward to?
Brad - Just enjoying the day to be honest, I nearly didn't go this year but was extremely glad I did

Casey -

Seeing everyone in their cosplay and it was definitely a good one this time. When we went in May there was a lot but October MCM was packed out with amazing cosplayers

Jason -

Spending dolla dolla's

Kayleigh -

Just a general look around at all the stalls really! Oh, and catching up with a few people.

Neil -

MCM is a big event for the Geek Mash team. I was most looking forward to the shows atmosphere and the fantastic cosplay from professionals and amateurs alike.
Going to the show with a fun group of friends really brings out that atmosphere of excitement and fun.
Ross -

I was most looking forward to wearing my new Sith Cosplay and meeting up with the other Star Wars cosplayers.
Jack -

The build up to fallout 4 such as the many different cosplayers and promotional stalls. Also the new fallout merch lots and lots of fallout merch.
Sarah -
Finding cool, quirky things to buy. They always have really random, unique items that you don't really find online.
First impressions of the show?
Brad - Just how much more organised it was than back in May. Nicer stall layout which wasnt laddered and things were much simpler to find

Casey -

Very packed and there was more of a variety of stuff there this time

Jason -

People, people everywhere

Kayleigh -

Seemed a lot quieter than the last show, and the second hall was smaller than May too. Looked like more variety across the stalls though. Not everyone selling the same thing!

Neil -

This year the show floor was laid out in a much better way and it showed from the start. They separated the show into two halls; the YouTube/Twitch presence in one hall and the commercial stands and artists alley in the other.
I feel it worked a lot better overall.
On reflection it also felt like all of the narrow corridors had been widened to give attendees more space to waddle about.

Ross -

My first impressions were the same as they always are, blown away with the amount of stuff to do and see. MCM is one of my favourite conventions to attend as there is such a diverse mix of stalls, games, guests and artists.
Jack - Great atmosphere, and a huge sense of excitement. Plenty of stuff to offer, wish i had more money haha
Sarah - It was good. However, I felt every other aisle was repeated. It's as if they've realised what is popular with the con-goers and just regurgitated it over and over again. Ultimately losing the uniqueness and becoming more commercial.

Did you meet anyone there? Celebs, artists, writers?
Brad - I did see Ashens at his stall but from afar, was too much of a queue. Met a really cool person though who does custom props, prosthetics and costumes called Victoria O'Connell, you can visit her Facebook page called Armoured Brownies HERE. Look out for a Q & A with her soon

Casey -

I met Jess and JP. I wanted to meet Nolan north but spent enough at that time so thought I better hold back.

Jason -

Nah, I'm not so hot with human interaction and

Nope

Kayleigh -

I caught up with my friends Jess Bradley/Bove and John Paul Bove over in Comic Village. It had been too long! Other than that, it was nice talking to random cosplayers and hanging out with friends.

Neil -

I met a few writers and artists who I hadn't head of before and spent some money on their comics.
I met Nich Angell from Big Punch Studios and bought his 7String comic which looks cool.
I also met the charismatic Vincenzo Ferrero, the writer for Skies of Fire, who explained how the story he was writing fits into the world he created. Adding extra materials to the back of the comics to add context to the world and make it a more active and engaging experience.
He really sold it to me and the art in the comic has a gorgeous steam punk aesthetic.
Ross -

I met the beautiful Candice Patton who plays Iris West in my favourite show The Flash :) I also met Adam and Jack from Funhaus and Achievement Hunter respectively
Jack - Didn't meet any celebrities although i walked past Danny John Jules (Red Dwarf's The Cat) and got a little star struck, he's a legend.
Sarah - I met the Yogscast YouTube gang.

Favourite Cosplay?

Brad - Either the Mardi Gras style Batwoman or the Cat Bus from My Neighbour Totoro

Casey -

It has to be the Catbus with No Face in it. It was so amazing and I could see how much effort went into it.
Jason -

I saw an awesome red skull that was properly menacing
Kayleigh -

I think the Cat Bus with No Face driving it inside was brilliant! I also loved Business Fish. The fact someone made a cosplay over a set of stickers on Facebook chat is so bizarre. :P
Neil -

Right at the end I saw Alfonze from Full Metal Alchemist. The full set of armor!
It may not have been the most robust build but it looked amazing and it's my favourite character from FMA.
There were a lot of other really amazing cosplay's of note. We have a full gallery on our Facebook page if you'd like to check them out.

Ross -

I think my favourite cosplay was the Harley Quinn Space marine. Immense amount of effort that must have gone into it.
Jack - There was a guy who was literally dressed up as the spongebob painting which shows at the beginning of the show. Was so random but totally hilarious and had a great reception among other mcm goers.
Sarah - There was a brilliant Rick Grimes cosplay. Really looked like him, even his mannerisms. Absolutely brilliant.

Favourite thing you bought?

Brad - Has to be the Legend of Zelda - Link Figma figure from the Good Smile Company. Absolutely superb figure which I've kept looking at for a while but only decided to buy now. There were some stalls that had it for twice the asking price but nothing beats the price from the official company

Casey -

Full Metal Panic Collectors Edition just looks so good. I love the packaging. :)
Jason -

Lucy Heartfilia statue of course
Kayleigh -

I loved the Beauty & the Beast bow I picked up, or the Sherlock Funkos! I've been waiting to get them.
Neil -

I bought a t-shirt of Soundwave from Transformers G1, it's sparkly too!
Ross -

Once again my favourite purchase was the commission I got from Jackademus / Jack Lawrence. This time it was of my Sith Cosplay
Jack - Favourite thing i bought has to be my many Fallout mystery mini figures i acquired.
Sarah - I bought a blind box of The Walking Dead Mystery Minis Series 1 for £6. I managed to pull out a super rare Prison Guard Zombie figure which you have 1/144 chance of getting. I was so chuffed.

Was there something you wished you bought but didn't?

Brad - There were some really nice looking Spider-Man, Thor and Batman figures at the Square Enix stall, those figures are nice but REALLY expensive

Casey -

Wish I bought that big Link toy for £50, but didn't know where I would put it.
Jason -

A certain scientific railgun on dvd. It had sold out when I went back to get it ;-;
Kayleigh -

I was happy with everything thankfully!
Neil -

The Warewolves of Millers Hollow was being sold as a full box version for £25.
I'm familiar with the WoMH game but not with this big box version.
It looked interesting but I let it pass me by and I probably should have looked at it further. I didn't really want to carry a big box around with me for the rest of the day.
I just looked it up on Amazon and it's going for the same price so maybe the opportunity wasn't completely lost...
Ross -

I saw a few things on the Friday that had disappeared by the Sunday. One of which was a stunt Lightsaber.
Jack -
I wish i bought the eaglemoss figurine boxset of superman, lex luther and wonder woman which comes with a magazine. I wanted to buy this because i have the two batman figurine boxsets they released and they are very detailed and cool. Plus they are limited edition and i'm a sucker for that.
Sarah -

Not really. I didn't feel there was much there this time round. Normally I'm upset because I'm running out of money. This time I actually came home with some. What?!?!

Was there anything you wanted to try but missed?

Brad - There were a few games around like the Oculus Rift or the new Assassins Creed game but there was too much of a queue at the time for both, I figured I'll try em at some point in the future

Casey -

Nolan North signing. I wish went to it in the end, but oh well too late now.
Jason -

Most of the games
Kayleigh -

I didn't see The Walking Dead set up. That looked great, and I wanted to get some shots of it for Geek Mash. I swear we missed a few rows too, but it was so big in there, and quite hard to keep to a route!
Neil -

Slightly. I had the opportunity to have a go on Disgaia 5 but those games take a long time to play and I didn't feel like I had that time. I saw other people playing it; it looks beautiful and plays like a Disgaia game.
Ross -

I really wanted to play Assassins Creed.
Jack -
It came to my attention that they had a fallout 4 stall selling shirts and various other pieces of merch. Also i went on friday and would've loved to meet RJ Mitt (walt jr, breaking bad) but he was there Saturday and Sunday.
Sarah - I wish I went to the Walking Dead panel talk. Although I only went on Friday and I don't think they did one on Friday.

Anything you wish was there?

Brad - It's always tough to talk about this as some of us actually missed things when we were walking around trying to find each other. The classic games section seemed to be missing this time but may just have missed it

Casey -

I wish there was more imported anime as everything getting sold from what I could see was PAL/region 2 releases.
Jason -

Alot more games, and more dvd/blu ray selling places
Kayleigh -

Hmmm....not sure actually. Found it pretty good this time around. One thing I have to note though is that I think there are waaaaaaaaaaaaaaay too many stalls selling Funko's Pop Vinyl toys. They're good and all, but come on. Overkill!
Neil -

I can't think of anything that wasn't there that I would have wanted to be there.
Ross -

The SyFy 360 cam would have been nice to see there again.
Jack -
I was hoping they were going to have a huge promotional stall/feature on Back to the Future. After all we reached the year 2015 and still no damn hover boards!!!
Sarah - Nightmare Before Christmas mopeez.

Anything you tried this time you haven't normally at past MCM's?

Brad - I was actually more open with asking people for photos, normally I get around 30 photos but this time I got about 150!

Casey -

I cosplayed for the first time at MCM. I wanted to try it and see how I felt.
Jason -

Well....all of it.
Kayleigh -

Nope! Same old for me really
Neil -

I don't normally spend as much time meandering around Artist Alley as I did this time. I really enjoyed speaking to the creators about their work as they're all passionate people doing something they love. It's awesome and inspiring.
Ross -

Nope.
Jack -
I was more observant and took my time around the stalls and went out my way to discover more stuff. Met the Yogscast youtube channel crew and struck up conversations with different people about different conventions they attend.
Sarah - Not really. I guess I got more involved with stuff. Like the free Star Wars photo booth thing. Here's a picture of me on the left, Jack on the right and our friend in the middle

Favourite moment of the show?

Brad - Seeing an awesome Rule 63 Tom Baker walking a K-9 everywhere, I asked for her photo and then after she offered me a jelly baby

Casey -

It has to be seeing my friends and the compliments I got for my costume. :)
Jason -
Just generally walking round and taking it all in.
Kayleigh -

I loved having a wander, looking at the stalls and hanging out with friends. Also, always good getting Streetpass hits!
Neil -

I have a bizarre moment to share.
Casey dressed as Man-Spider and someone asked to take a photo of him.
I held his shopping bags for him and all was normal until I was asked to participate.
The photographer asked Casey to attack me menacingly. He didn't ask me to do anything so I looked away nonchalantly.
If anyone sees this picture in the wild internet be sure to let me know.
Other than this just having a good time with friends was the best moment of the day.
Ross -

Fighting JEDI! Great times.
Jack -
Definitely getting a vault boy fallout mask for free, was so jealous when i kept seeing people on facebook posting them. Was contemplating going to game on the midnight launch just to get one. Got given one for free on the Yogscast stall, was happy as larry :D
Sarah - Pulling that super rare figure! My face lit up I was so ridiculously happy.

What would you cosplay as at future shows given the chance?

Brad - Well back in May I said Zoidberg or Strontium dog, but I actually saw a picture of a really cool Harley Quinn Space Marine. I would do the Space Marine armour and mod it to Link from The Legend of Zelda or Donatello. I actually have some thoughts about a Mandalorian Star Wars armour too

Casey -

I have got a few ideas but don't know yet, likely something from one of my favourite video games. I want to make something unique and different but I know that it is hard to accomplish in the cosplay world
Jason -
Danganronpa character. Not decided which one yet.
Kayleigh -

I cosplayed as Alice this time around, but I still want to get my Tomb Raider reboot cosplay sorted sometime.
Neil -

I'd like to do a gender bent variant of an awesome female character or maybe some kind of over the top, overly ambitious build like Soundwave from Transformers!
In reality though it will probably be a vault survivor from the Fallout universe.
Ross -

I have been thinking about cosplaying a Transformer, maybe Shockwave, and Doing a college / Hipster version of The Riddler
Jack - Its something i have always wanted to do but can never decide what to goes as. I was thinking darryl from the walking dead, that'll give me an excuse to buy a crossbow, and crossbows are cool.
Sarah - I really want to cosplay! But I have no idea what. I was close to cosplaying Velma once.

So there we go folks, another year of London MCM Expo over.
We can't wait for May :D
Be sure to check out our swag that we bought at the Expo on our Facebook page
HERE
Plus check out the whole gallery of Cosplay pictures
HERE
Did you have a fun time at Expo?
Let us know in the comments or on Facebook and Twitter
Follow Geek Mash
Follow Brad