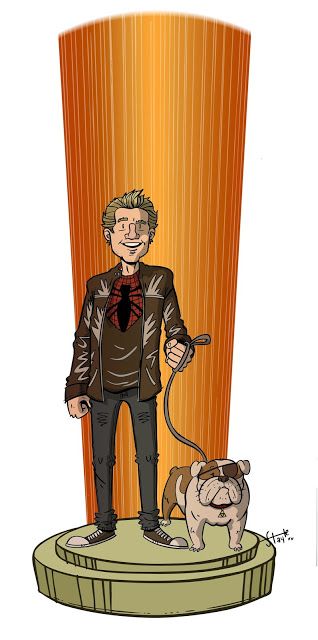 Casey
It's that time of year again!
MCM ran this weekend 28th-30th of October and as always there were awesome cosplayers, tons of merchandise and a jam packed hall.
Here's my report:
What were you most looking forward to?
I was mostly

looking forward to debuting my cosplay what I have been working on for hours and meeting Nolan North, as I'm a huge fan of all the characters he has played in games, especially Nathan Drake in the Uncharted series.
Even bigger, more variety of stuff to see, and super busy as it was a Saturday and usually I go on Sunday.
Did you meet anyone there? Celebs, artists, writers?
I met Nolan North who voices many characters in video games, it was super excited to meet him as I love him in the Uncharted series, and last time he was there I didnt take advantage of getting a picture with him, so I definitely had to do it this time. I also met some artists in Comic Village.
Favourite Cosplay?
Saw amazing female Link from Legend of Zelda but wasn't able to get a picture as was too crowded but it was super detailed.
Favourite thing you bought?
It has to be my Alien Warrior by Hot Toys, as everyone knows I love collecting my figures, so I was happy to add this one to my collection.
Was there something you wished you bought but didn't?

Way too many to say. If I had unlimted money, I would of got more Hot Toys as I saw some more Star Wars figures to complete my set at a very good price, like Snake from Metal Gear Solid. Also, I saw some other figures from Figma and Good Smile I would of loved to have, but I can spend so much before I go out of pocket.
Go to any booths at the show? Try any games?
Unfortunately, I didn't this time, mainly due to my costume but I wish I did sit down to play some Beserk, Little Nightmares and so wish I had time to try out the HTC Vive, but the queue was huge to get a try.
Was there anything you wanted to try but missed?
Mainly the HTC Vive as I was really interested in VR but the line was way too long, also they
had a stand where if could hold yourself up for 2 minutes win £20 but my costume was way too heaby for that so dont think it was possible.
Anything you wish was there?
There were loads of Game of Thrones celebs there, but I wanted to meet Ramsey Bolton, but he didn't come, maybe next time.
Anything you tried this time you haven't normally at past MCM's?
Getting a photo with Nolan North. I've never done it before and I'm glad I did as I now have a picture on my wall with him and me.
Favourite moment of the show?
People saying how much they loved my costume as it made me happy that I put all them hours into a costume that looked good.
What would you cosplay as at future shows given the chance?
If I had the talent, I'd love to cosplay as Jabba the Hutt. It'll be funny and an awesome cosplay.
Follow Geek Mash
Follow Casey